No silly! It's Kyle Korver. My newest favorite player of the Utah Jazz.

He is such an amazing player. I know this shot isn't in his Utah Jazz uniform but what a sweet shot huh!!! I went to the game last night with my brother. They played the New Orleans Hornets and they won 110-88! It was such a good game. Korver had 20 points, 18 of which were 3-pointers! Everytime they got the ball I would yell "GIVE IT TO KORVER!" Okay not everytime, but I should've. He hit four "in a breathless 2-minute, 16-second stretch to open the second quarter" It was awesome! And I would like to prove my dad wrong who said he was 5 for 11. He was actually 6 for 8. (one shy of his career record) Pretty impressive. He has such a nice shot and I'd much rather have him than Giricek. (sorry if it's spelled wrong) The crowd was chanting his name and this was what his response was, "Yeah that was embarrassing," he said sheepishly afterward. "I don't need that." How humble!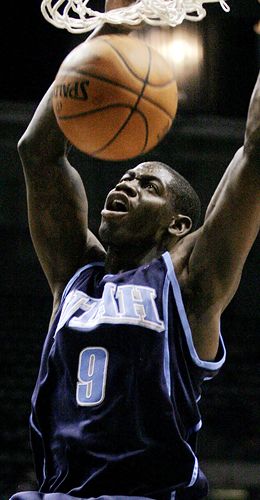 Here's my favorite player. Ronnie Brewer. He had a sweet dunk last night. I think he's great. Before last night I didn't like Deron Williams at all. But after the most amazing dunk and 29 points last night, he's beginning to grow on me! HA HA the game and dinner was a blast! Thanks bro!